Issue 3 - Tuesday, 20th December 2022
(See below for the English version)
NYHEDER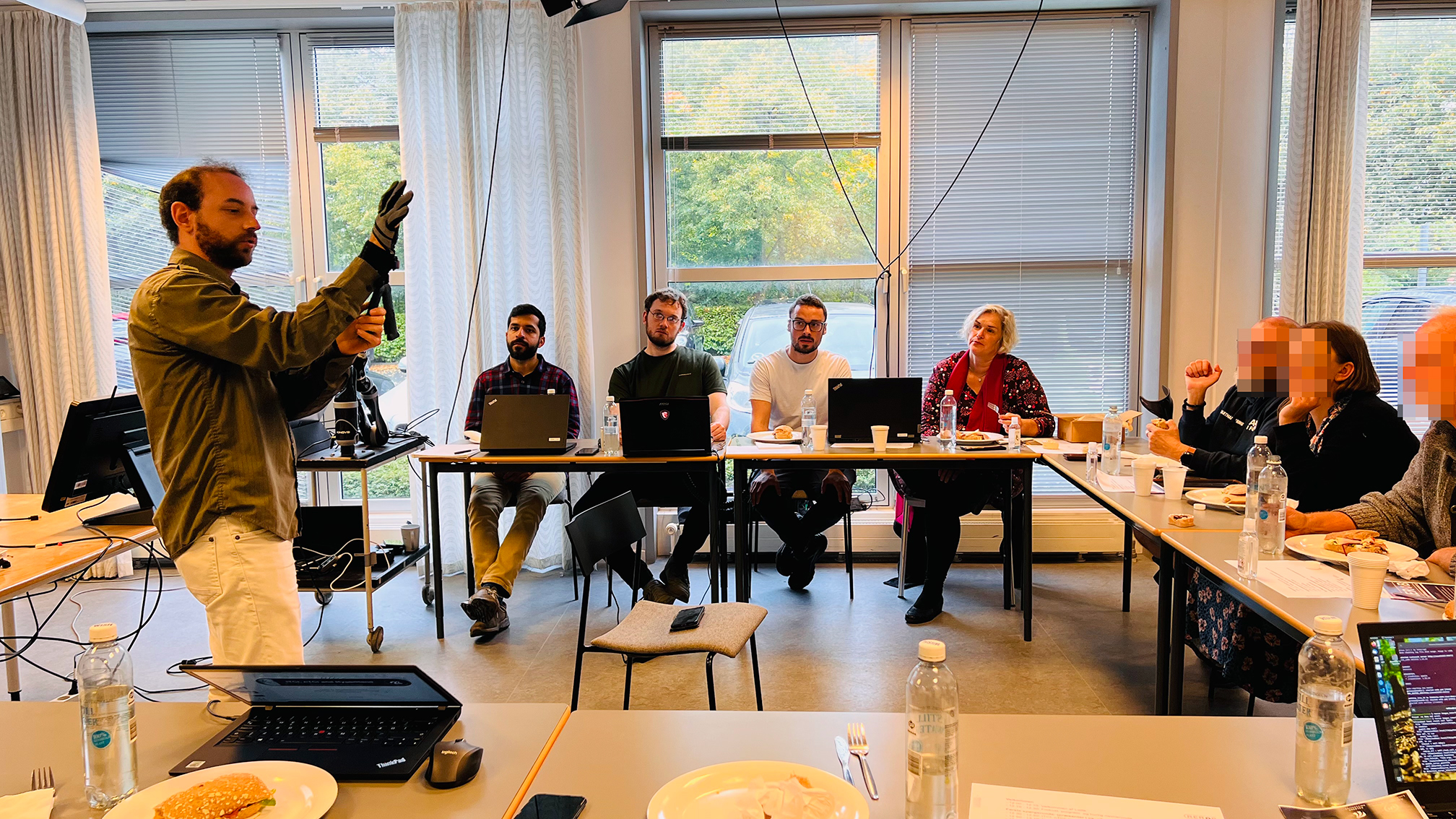 CRERoB HOLDER BRUGERPANELMØDE FOR BORGERE MED ALS
CRERoB var den 5. oktober 2022 vært for et brugerpanelmøde med fokus på Amyotrofisk Lateral Sklerose (ALS). Mødet havde til formål at fastlægge mulighederne for potentielle slutbrugere med ALS i forbindelse med CRERoBs igangværende projekter, såsom EXOTIC2, iTooBot og MultiRob (I kan læse om projekterne længere nede). Dagsordenen for mødet omfattede også en introduktion af den første prototype af det nye ikke-invasive tungestyringssystem. Deltagerne i mødet gav værdifuld feedback, som siden har resulteret i vigtige tilpasninger af vores projekter.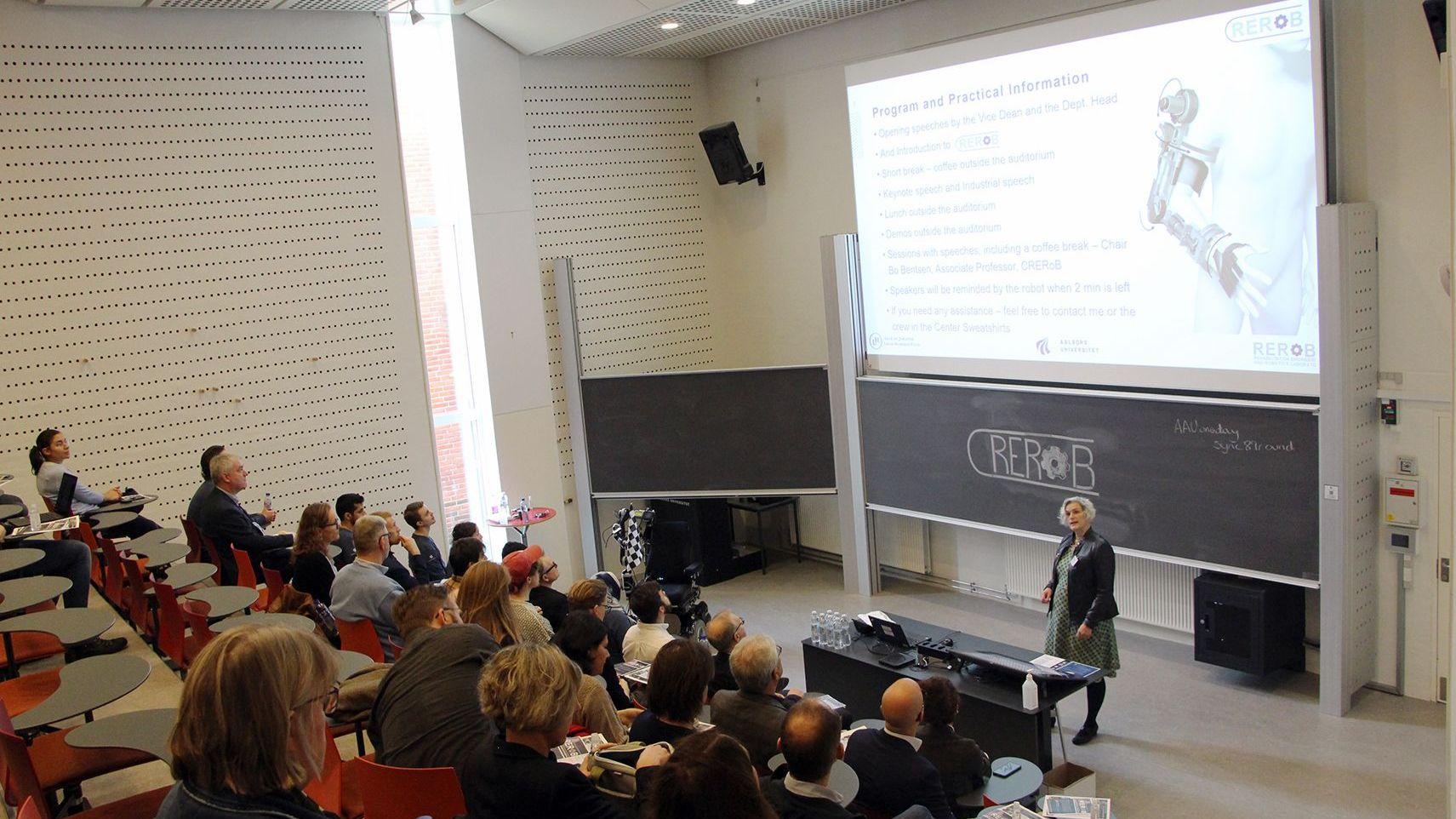 CRERoB-SEMINAR 4. MAJ 2023 – RESERVER DAGEN!
CRERoB afholder sit andet centerseminar den 4. maj 2023. Seminaret vil blive afholdt i kombination med et internationalt ph.d.-kursus den 3. maj: den 1. Internationale Aalborg Workshop I Advances In Rehabilitation Robotics. Der udsendes invitationer til CRERoB-netværkets medlemmer, så snart programmet er klart kort efter nytår. Der vil bleve olæg fra førende internationale forskere, klinikere, brugerorganisationer samt industrien og der vil være en demo-session.
Vi håber at se jer alle til seminaret!
KONFERENCEDELTAGELSE

Otte forskere fra CRERoB deltog i Rehab Week 2022 i slutningen af juli. Konferencen omfattede spændende forelæsninger og posters, der realterede til rehabiliteringsrobotik. CRERoBs forskere bidrog til Rehab Week med 8 artikler/abstracts.


I en af CRERoB-artiklerne (https://ieeexplore.ieee.org/document/9896588) sammenlignede Ana S. Santos Cardoso fire EEG-indsamlingsenheder i relation til deres BCI-ydelse, opsætningstid og relaterede brugertilfredshed ved at teste hver enhed på ti raske deltagere. I en anden artikel (https://ieeexplore.ieee.org/document/
9896548) introducerede Oguzhan Kirtas et nyt tungeinterface-koncept, der ikke kræver en tungepiercing, som det nuværende koncept. Artiklen præsenterede fire designmuligheder for de nye sensorplader. I yderligere en artikel (https://ieeexplore.ieee.org/document/
9896413) har vi beskrevet, at tale ikke påvirkes af et tunge-computerinterface i sammenligning med det at bære en almindelig tandprotese. I sin artiklen (https://ieeexplore.ieee.org/document/9896600) beskriver Kasper Leerskov effekten af potensering under træning med et hybrid robot-FES-system, som vi har udviklet sammen med Life Science Robotics ApS. Vi har ligeledes præsenteret, hvordan tværfaglighed og brugerinddragelse har forbedret designet af EXOTIC, ligesom vi har defineret fire vigtige applikationsniveauer, der bør tages i betragtning, hvis man vil sikre, at et design opfylder krav fra både brugere, omsorgspersoner og samfundet, og dertil hvilke krav der i en holistisk tilgang er vigtige, når man designer et exoskelet (læs mere her: https://ieeexplore.ieee.org/document/9896500).


Juwairiya fra CRERoB præsenterede sit review (https://ieeexplore.ieee.org/
abstract/document/9945523) omhandlende designet af assisterende kabeldrevne exoskeletter til arme og deres eksperimentelle evaluering på konferencen 2022 IEEE Systems, Man and Cybernetics (IEEE SMC 2022). Artiklen identificerer et behov for design og udvikling af et kabeldrevet exoskelet bestående af en hel arm udført i letvægtsmaterialer til hjælp i hjemmet, som baseres på brugerkrav. Artiklen fokuserer også på behovet for at teste exoskeletter sammen med slutbrugere.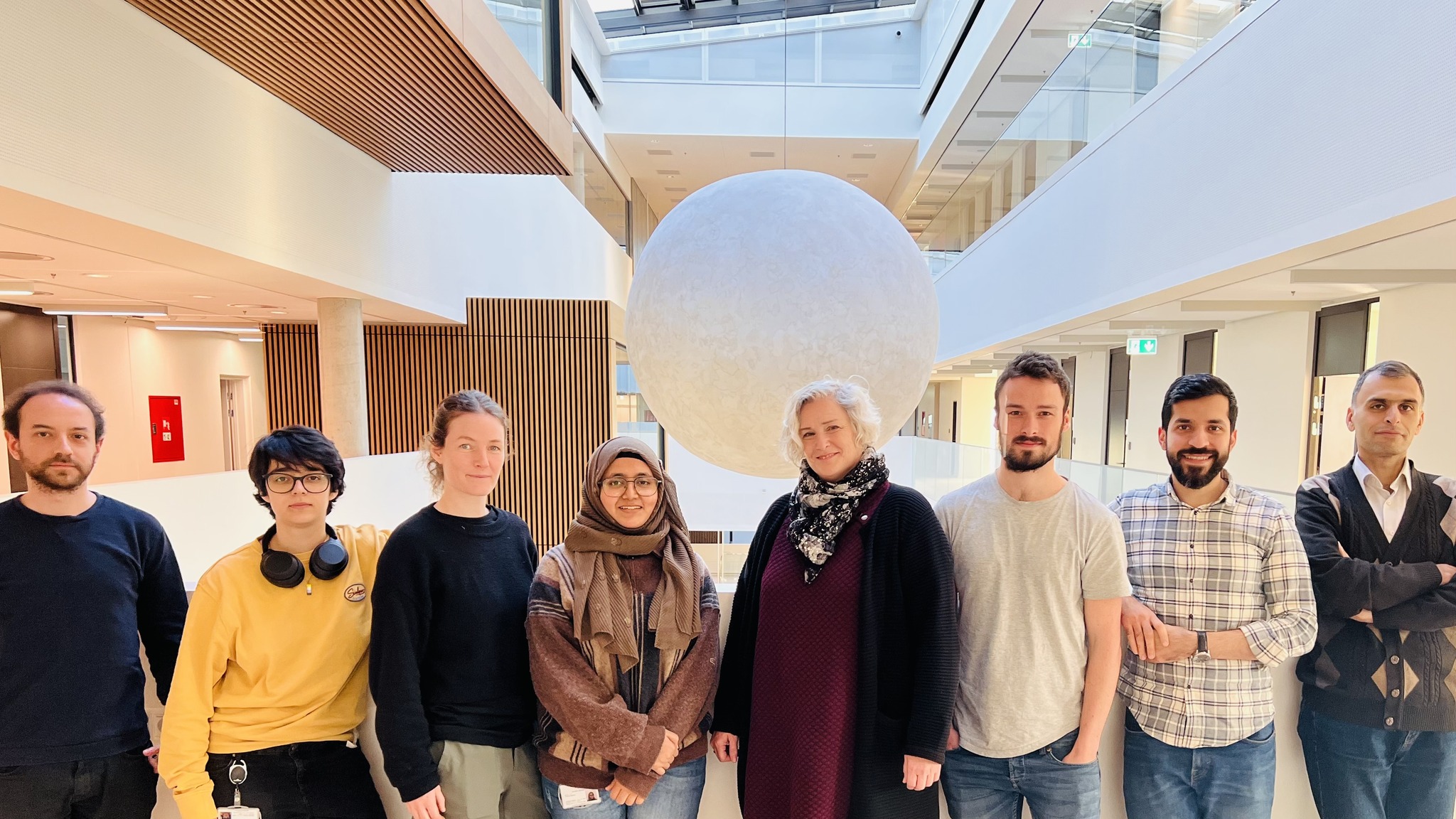 CRERoB FLYTTER IND I DEN NYE SUND-BYGNING
Institut for Medicin og Sundhedsteknologi, hvor CRERoB er forankret, flytter til SUND-bygningen ved Nyt Aalborg Universitetshospital (NAU). Flytningen forventes afsluttet den 1. februar 2023. CRERoBs laboratorier er dog allerede nu flyttet til den nye bygning og er i fuld drift. Centrets nye adresse er Selma Lagerløfs Vej 249, 9260 Gistrup.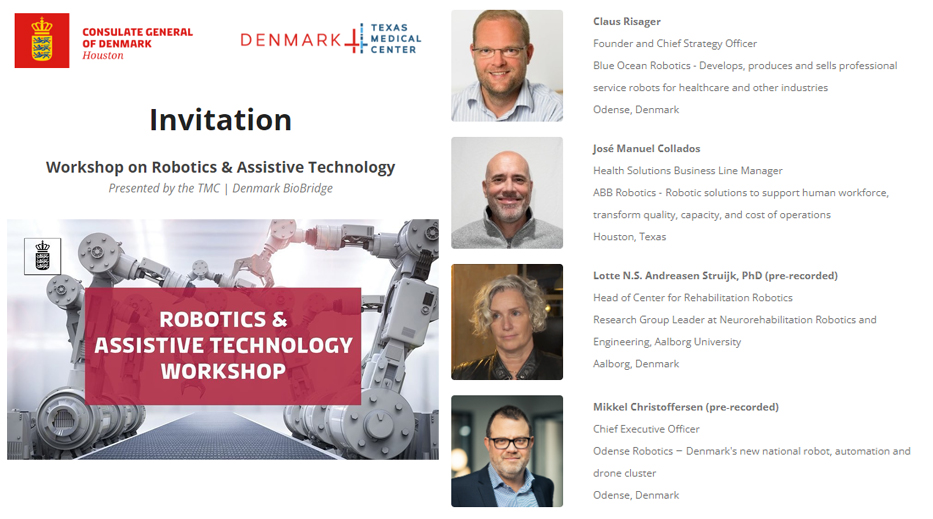 CRERoB PRÆSENTERES PÅ WORKSHOP I TEXAS
Den 2. juni blev CRERoB præsenteret ved "Workshop on Robotics and Assistive Technology" i Houston, Texas. Workshoppen var arrangeret af Danmarks Generalkonsulat og Healthcare Denmark i samarbejde med Texas Medical Center. Foruden Lotte N.S. Andreasen Struijk deltog oplægsholderne fra ledende danske organisationer og virksomheder inden for sundhedsrobotik.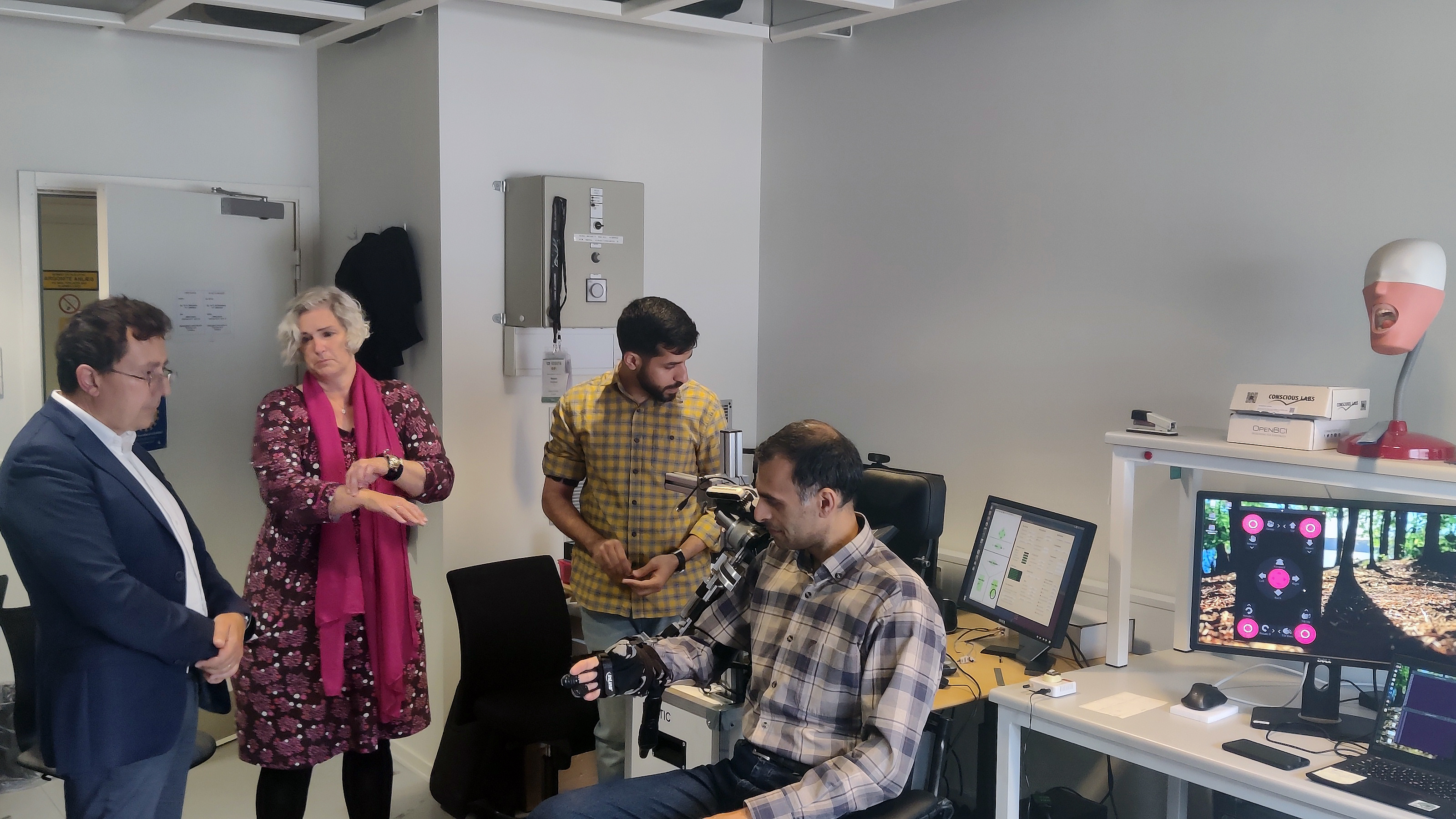 PROFESSOR DARIO FARINA BESØGER CRERoB
CRERoB har haft fornøjelsen af at have besøg af professor Dario Farina. Dario Farina er leder af Neurorehabilitation Engineering gruppen, ved Imperial College i London. Dario Farina besøgte CRERoBs laboratorier og blev præsenteret for vores igangværende projekter. Vi har planlagt yderligere samarbejde med Dario Farina og hans team om et fælles projekt, hvor formået er ammen at udvikle nye løsninger til at styre robotik for brugere, der lever med lammelser.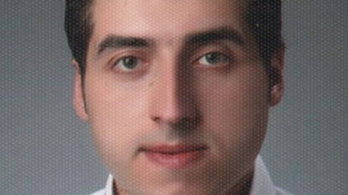 CRERoB BYDER VELKOMMEN TIL GÆSTEFORSKER
Cihan Uyanik har været gæsteforsker hos CRERoB siden september 2022. Han er ph.d.-studerende fra DTUs Brain Computer Interface Group, hvor han arbejder under vejledning af lektor Sadasivan Puthusserypady. Cihan samarbejder med CRERoB om at udvikle et nyt hjernestyringssystem baseret på deep learning til EXOTIC-exoskelettet. Formålet med dette interface er at støtte fremtidige brugere med ALS til at udføre daglige aktiviteter såsom at drikke ved at bruge exoskeletter bestående af en hel arm.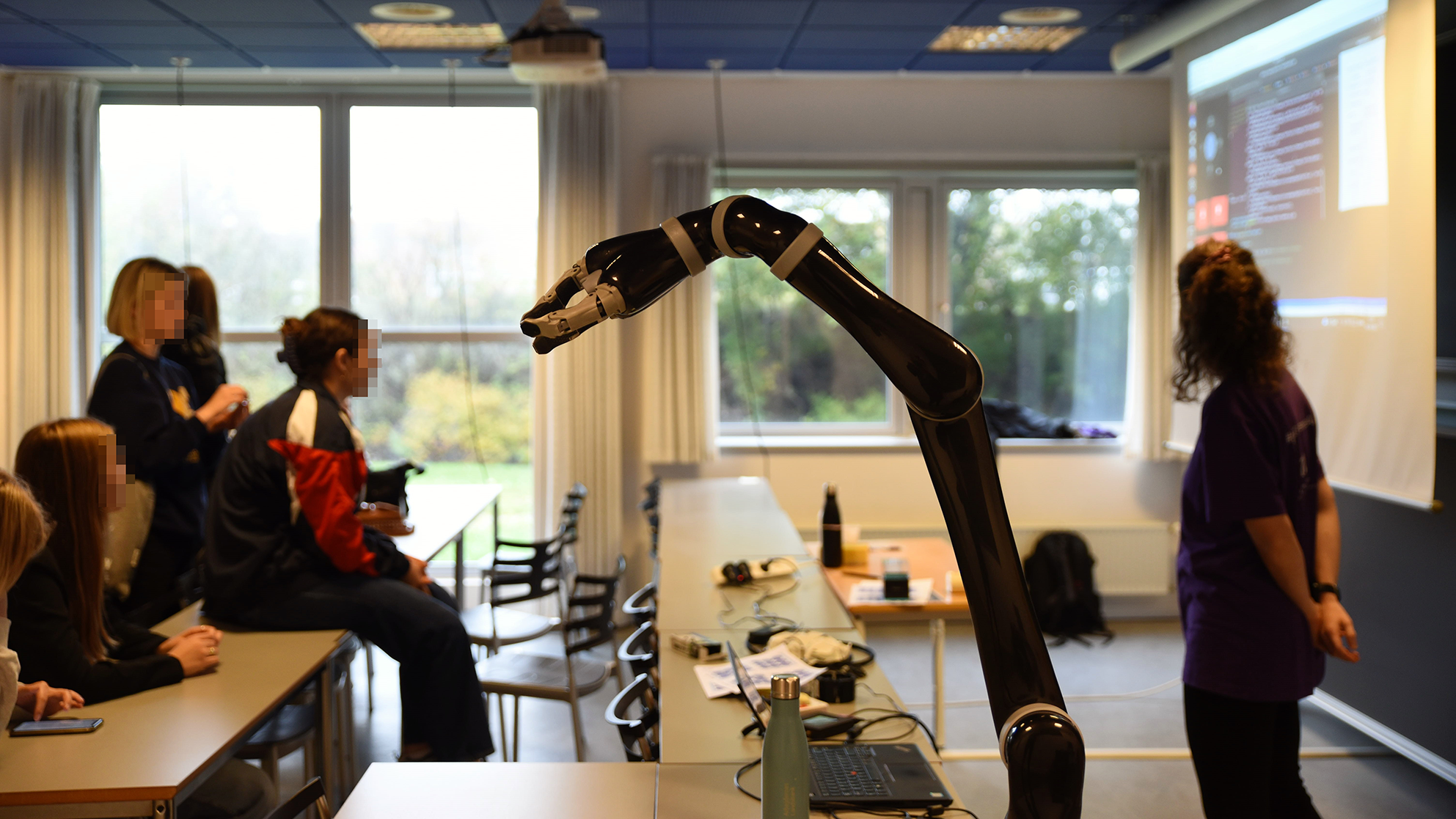 HUN SAGDE "SE, INGEN HÆNDER!"
Girls Day in Science, en årlig begivenhed med fokus på at formidle viden om STEM-uddannelserne (dvs. uddannelser inden for naturvidenskab, teknologi, ingeniørvidenskab og matematik) til kvindelige gymnasieelever, blev afholdt igen i 2022. Ásgerdur Pálsdóttir fra CRERoB stod i spidsen for workshoppen: "Se Mig - Uden Hænder!". Workshoppen handlede om, hvordan man kan styre rehabiliteringsteknologier uden brug af hænderne, men i stedet ved hjælp af et tungestyret kontrolsystem. Workshoppen gav deltagerne en introduktion til uddannelsen Sundhedsteknologi, og pigerne fik lov at styre en robotarm ved hjælp af iTongue-systemet.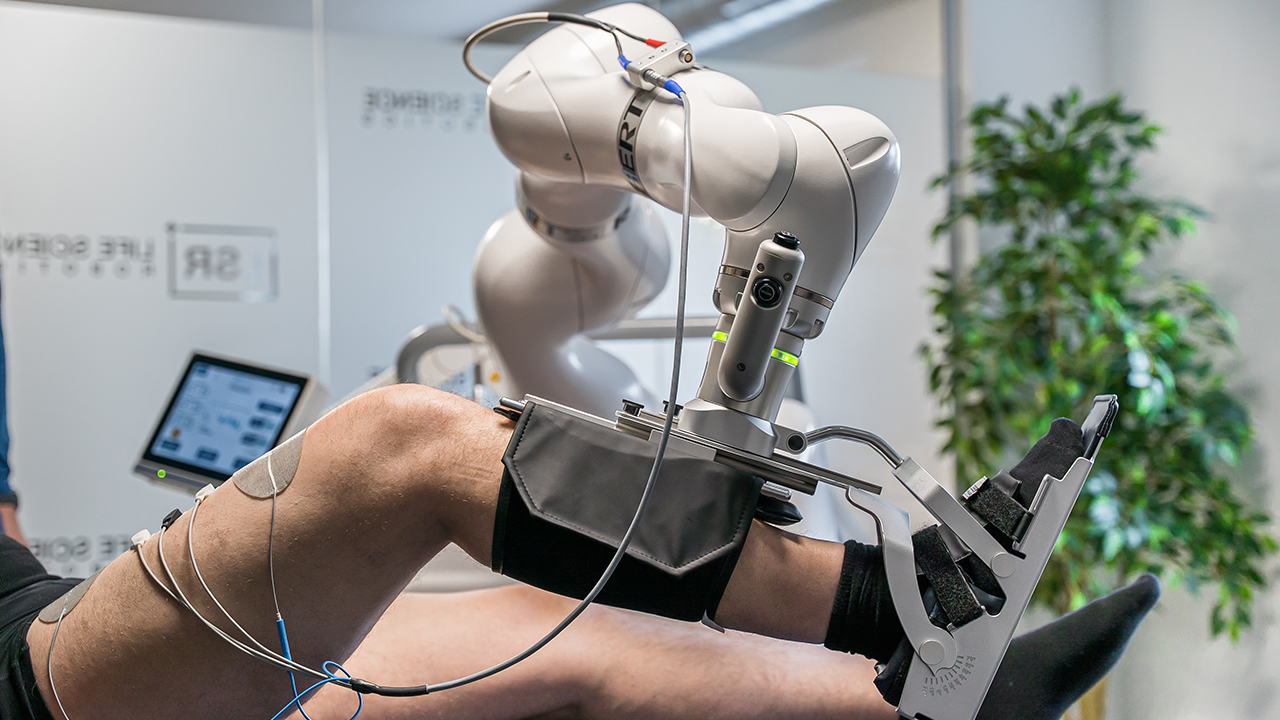 REHABILITERINGSTEKNOLOGI FRA CRERoB-SAMARBEJDE MED LIFE SCIENCE ROBOTICS
Life Science Robotics lancerer snart det nye Sensing and Stimulation (SAS) modul til deres rehabiliteringsrobot, ROBERT®. Projektet er udviklet i samarbejde med CRERoB og Roessingh Research and Development i Holland. Modulet skal anvendes til klinisk testning af apopleksipatienter. SAS-modulet er et tilføjelsesmodul til ROBERT®, som anvender elektromyografi (EMG) til at detektere intentionen med bevægelse og funktionel elektrisk stimulation (FES) til at generere bevægelser. Dermed kan alvorligt svækkede og lammede udføre rehabiliterende øvelser, mens de er sengeliggende.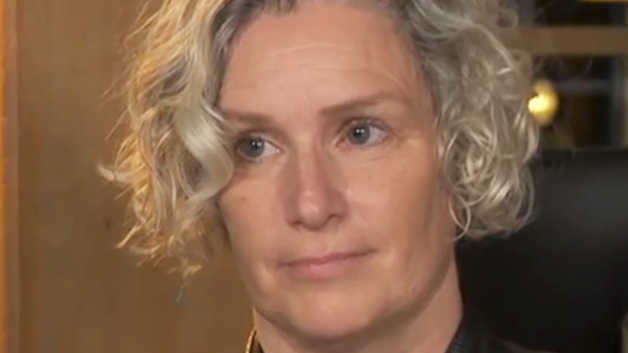 CRERoB LEDER TILTRÆDER PROFESSORAT
CRERoBs leder Lotte N.S. Andreasen Struijk blev udnævnt til professor i Rehabilitering og Robotik ved Aalborg Universitet/CRERoB den 1. september 2022. Lotte ser frem til at fortsætte sit arbejde med centret.
CRERoB SAMARBEJDER MED MUSKELSVINDFONDEN OM ØGET BRUGER INDDRAGELSE
CRERoB, repræsenteret ved forskningsassistent Rasmus Leck Kæseler og centerleder Lotte N.S. Andreasen Struijk, har for nylig holdt et meget værdifuldt møde med konsulent Heidi Hoelgård Sunesen fra Muskelsvindfonden. Vi er meget glade for muligheden for at kunne starte et samarbejde, der skal sigte mod øget brugerinddragelse og co-design inden for forskning og udvikling af teknologier til brugere med ALS.
VORES PROJEKTER
Følg os på LinkedIn og bliv opdateret.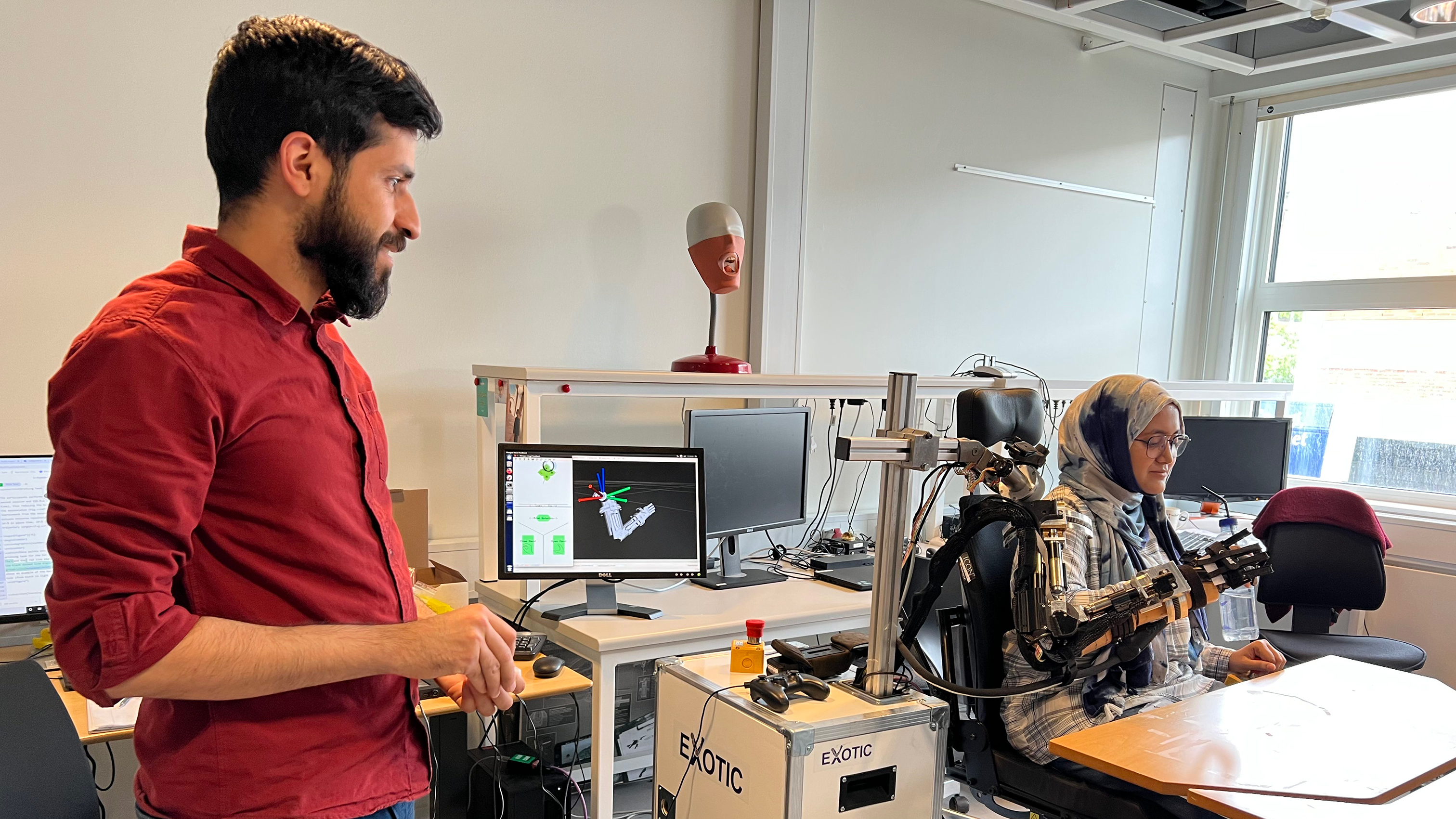 EXOTIC VERSION 2 UNDER UDVIKLING
EXOTIC2
Vi arbejder på en ny version af EXOTIC-exoskelettet. EXOTIC2 vil, i modsætning til EXOTIC1, få en ekstra "degree of freedom" (DOF) i form af et 3D-printet led af letvægtsmateriale, som indbygges i exoskelettets håndled. Dette vil gøre det nemmere for brugeren at placere f.eks. en flaske på bordet efter at have drukket af den. EXOTIC2 vil være klar til brug i de forsøg, der skal finde sted i det nye år. Vi søger deltagere til forsøgene med det nye system, som også indeholder ikke-invasiv tungekontrol og kontrol baseret på hjernesignaler. Vi arbejder endvidere sammen med AAU Design Lab om udviklingen af en attraktiv "skal" til EXOTIC.
Derfor søger vi brugere, der vil hjælpe os med deres mening om, hvordan et attraktivt exoskelet ideelt set skal se ud: Som et smykke? Med højteknologisk eller biologisk udseende? Skal det have farven grå eller mange farver? Skinnende eller?
Hvis du har lyst til at give input til denne proces, så kontakt venligst Mostafa på mostafa@hst.aau.dk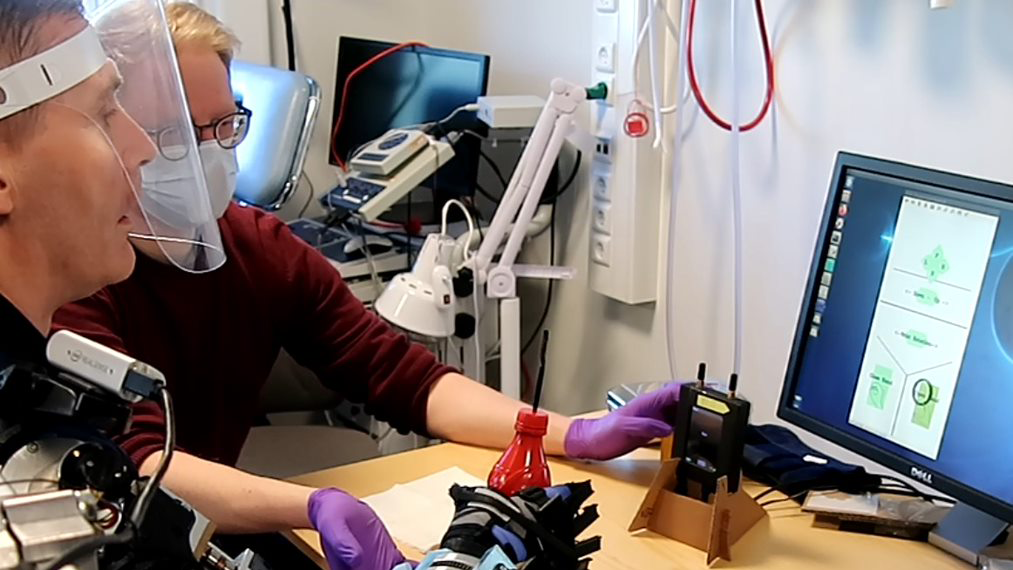 HER ER RESULTATERNE
EXOTIC
Vi har tilendebragt analyserne af resultaterne fra vores forsøg med EXOTIC, som omfattede ti raske personer og tre brugere med komplet tetraplegi forårsaget af rygmarvsskade. Under forsøgene skulle både de raske forsøgsdeltagere og brugerne med tetraplegi anvende EXOTIC til dagligdagsaktiviteter såsom at løfte en drikkeflaske og samle snacks op fra et bord. Brugerne bekræftede anvendeligheden af EXOTIC. Studiet blev udført i samarbejde med Vestdansk Center for Rygmarvsskadede. Mere information om forsøgene kan findes på: https://doi.org/10.3390/s22186919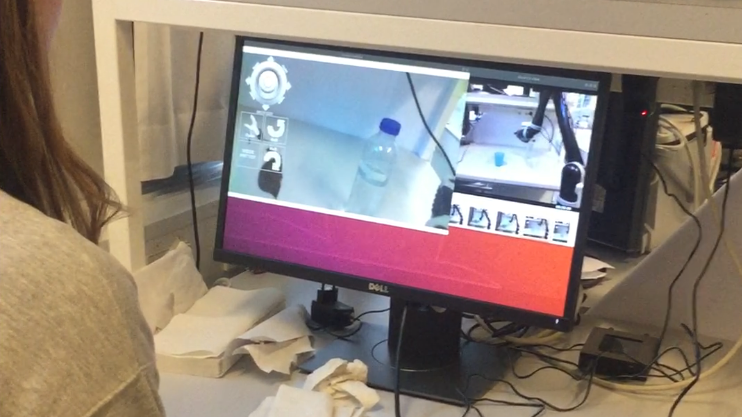 MULTIROB ER NU I GANG MED DE SIDSTE FORSØG
MULTIROB
Vi har udviklet et fjernstyret tungekontrol-system til en kørestol og en robotarm, som giver brugerne mulighed for – ved hjælp af fjernstyring - at køre en kørestolsmonteret robotarm rundt i huset uden at skulle stå ud af sengen. Vi er nu i gang med de sidste forsøg, hvor systemet evalueres af personer, der er diagnosticeret med ALS eller rygmarvsskade samt med deltagere uden handicap.

I et separat forsøg har vi udviklet et kontrolinterface til robotarmen, der anvender armmuskler, tungebevægelser og/eller hjernesignaler. Denne multimodale interface-ramme er udviklet til at kunne tilpasse sig ALS, så brugeren kan kombinere deres foretrukne kontrolsignal med deres behov og sygdomsprogression. Vi er i gang med at evaluere det multimodale interface sammen med brugere, der er diagnosticeret med ALS.

Begge forsøg er i øjeblikket åbne for deltagere.
iToobot ER KLAR TIL AT UDFØRE FORSØG
ITOOBOT
I iToobot-projektet sigter vi mod at udvikle en metode til at tungestyre den assisterende robotarm iARM sammen med virksomhederne TKS A/S (Danmark) og Assistive Innovations bv. (Holland) som deltagere. Vores mål med dette samarbejde er, at løsningen vil være tilgængelig for brugerne inden for 1-2 år. Vi er klar til at udføre forsøg med det nye tungestyringssystem der ikke kræver en piercing. I forsøgene skal deltagerne bruge en ny intuitiv kombination af tungestyrede knapper og joysticks for at styre robotarmen iARM (på billedet), der vil kunne gøre nogle af bevægelserne halvautomatisk. iARM kan sættes fast på en kørestol, og dermed kan den hjælpe brugeren med f.eks. spise og drikke.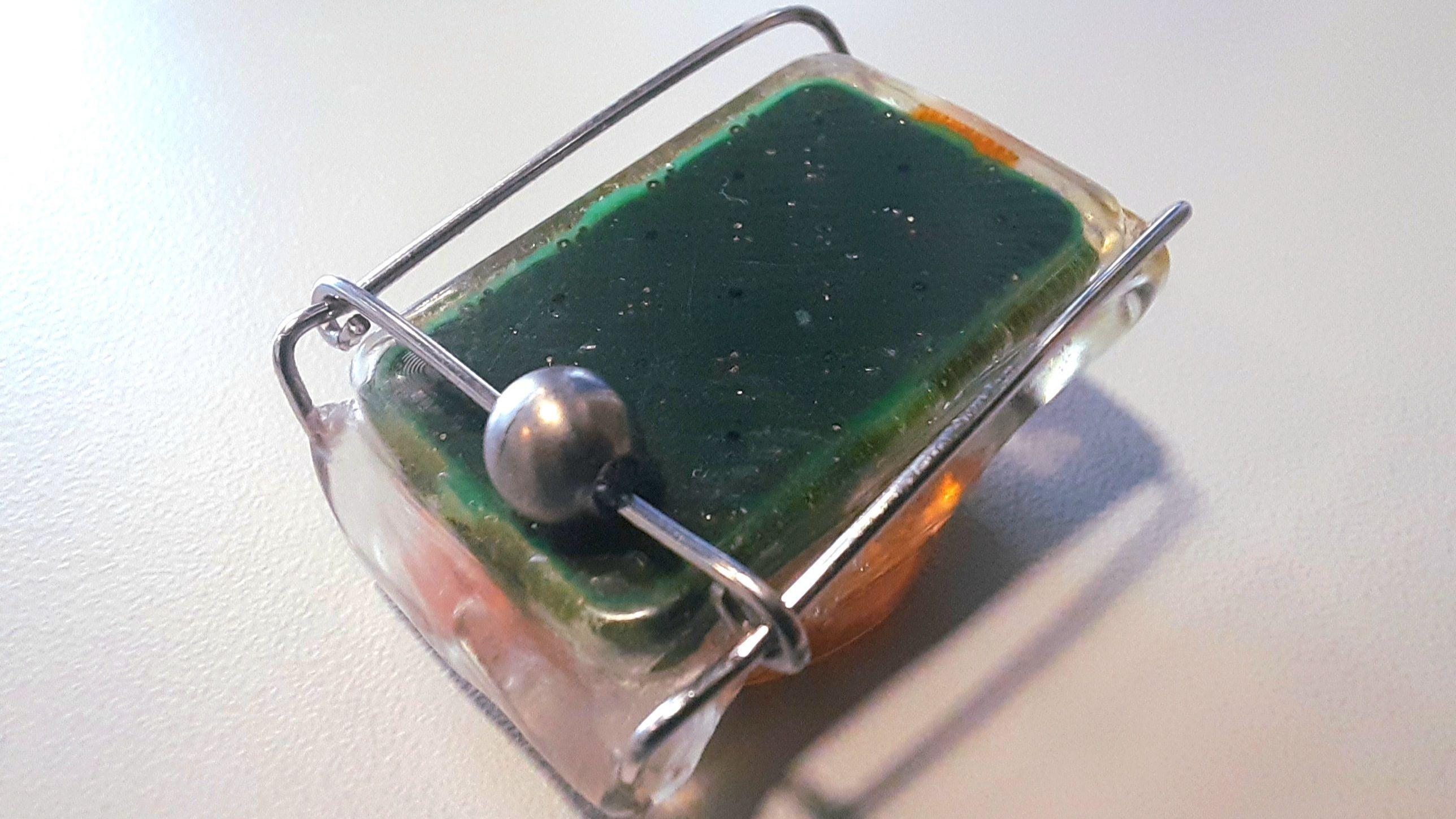 ET NYT TUNGE-COMPUTER-INTERFACE
HYPERHAND
CRERoB har i samarbejde med TKS A/S udviklet et nyt ikke-invasivt tunge-computer-interface (nTCI), hvor aktiveringsenheden ikke skal fastgøres til tungen som i det eksisterende system, iTongue. I det nye interface kan brugerne i stedet anvende en aktiveringsenhed, der er integreret i en ramme på selve styringsenheden. Enheden flyttes rundt ved hjælp brugerens tunge, således at enheden kan aktivere de induktive sensorer. nTCI er i øvrigt også mindre end iTongue. I de kommende forsøg med raske forsøgsdeltagere vil nTCI blive brugt til at styre en computer samt til at udføre flere tests med en tilpasset version af en exoskelet-handske (Carbonhand), der har fem "fingre".
VI ØNSKER JER ALLE EN GOD JUL OG ET GODT NYTÅR!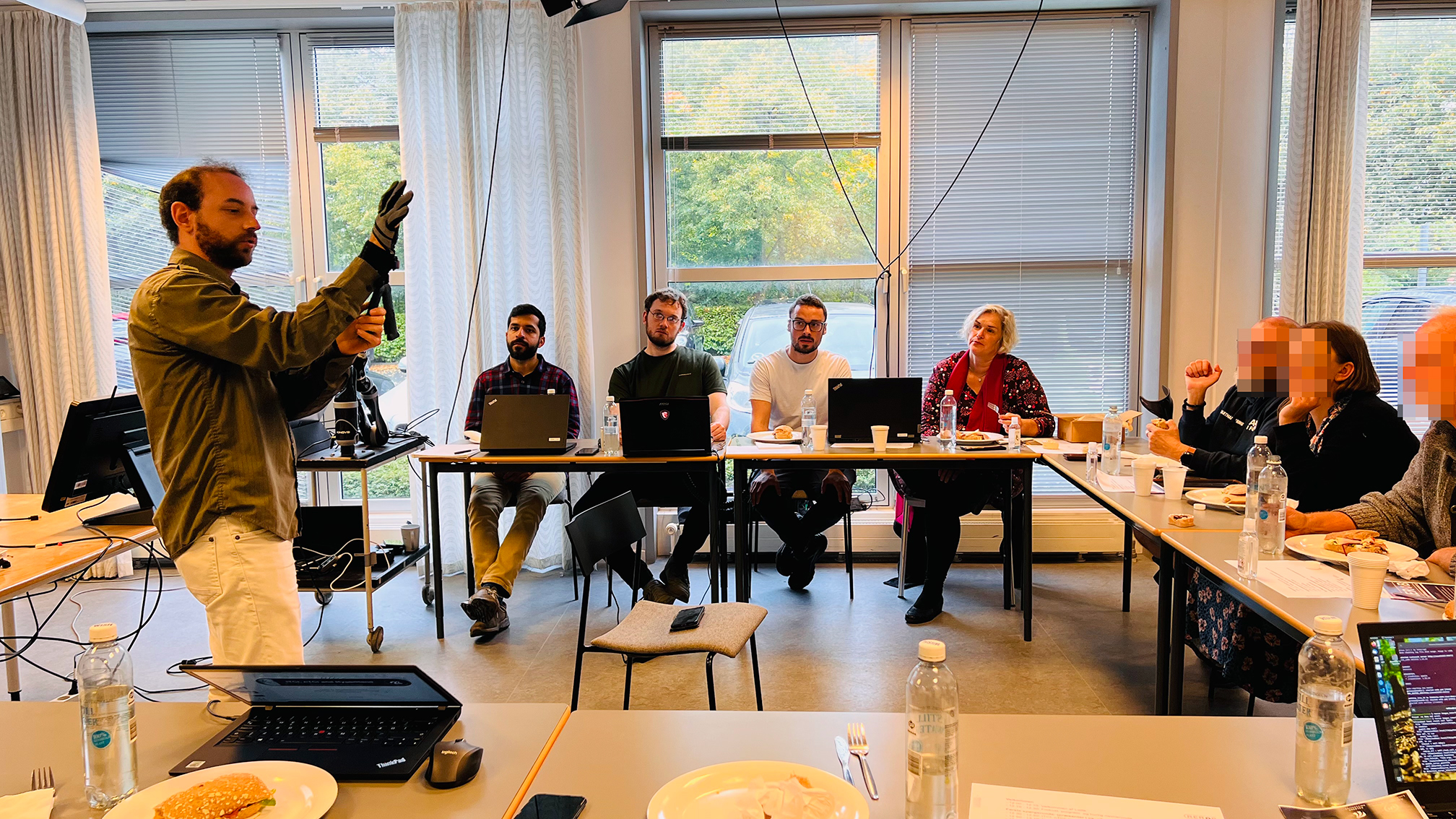 CRERoB HOLDS USER PANEL MEETING WITH USERS WITH ALS
On October 5, CRERoB held a user panel meeting focusing on Amyotrophic Lateral Sclerosis (ALS). The meeting sought to determine the opinions of potential end-users with ALS regarding CRERoB's ongoing projects, such as EXOTIC2, iTooBot, MultiRob. The agenda for the meeting also included introducing the first prototype of the novel non-invasive tongue interface. The participants provided very valuable feedback, which has since resulted in important improvements of our work.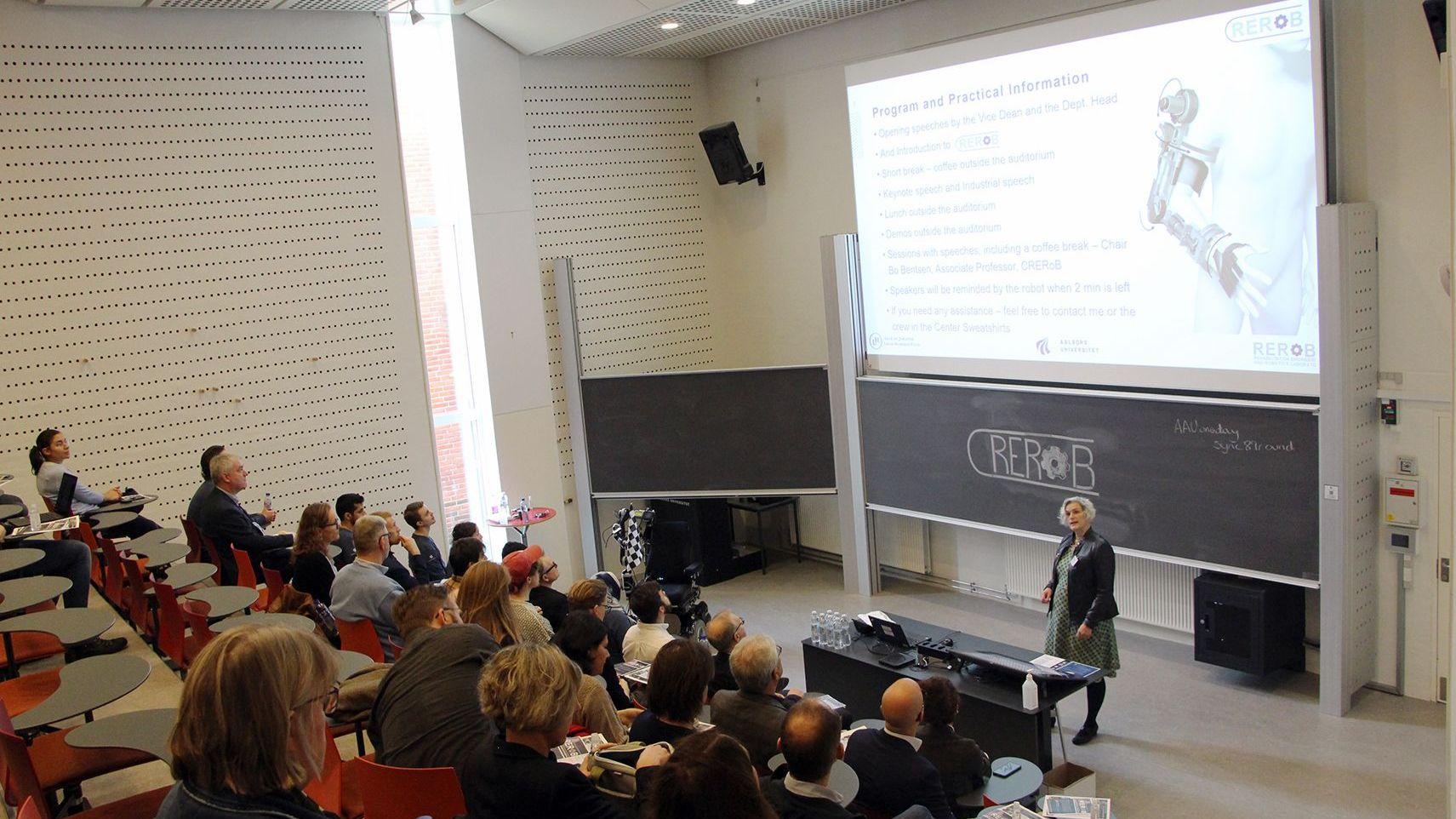 SAVE THE DATE! CRERoB SEMINAR PLANNED May 4th 2023
CREROB is preparing the second center seminar in May 4th 2023 – the seminar will be combined with an international PhD course the day before on: the 1st Aalborg Workshop In Advances In Rehabilitation Robotics. The CRERoB network members will get an invitation when the program is ready shortly after new year.

We hope to see you all!
CONFERENCE PARTICIPATION

Eight CRERoB members attended RehabWeek2022. The conference included 39 different workshops and outstanding keynote talks, covering topics such as rehabilitation robotics, virtual rehabilitation, and functional electrical stimulation. Our researchers submitted six posters and two oral presentations.


One of the CRERoB articles (https://ieeexplore.ieee.org/document/9896588) focused on the comparison of four EEG acquisition devices with respect to their BCI performance, setup time, and user satisfaction by testing each device on Ten able-bodied participants and completing an 8-target SSVEP paradigm. Oguzhan Kirtas introduced a novel tongue interface concept, which does not require a tongue piercing as does the current one. The paper (https://ieeexplore.ieee.org/document/9896548) presented four design possibilities for the new sensor plates. In another paper (https://ieeexplore.ieee.org/document/
9896413) we describe that speech is not affected by a tongue computer interface as compared to wearing a standard denture. In his paper (https://ieeexplore.ieee.org/
document/9896600), Leerskov reports on the effect of potentiation and fatigue during exercise with a hybrid robotic-FES system that we have been developing together with Life science Robotics Aps. We have also detailed how interdisciplinarity and user involvement improved the design of EXOTIC in the following article: https://ieeexplore.ieee.org/document/9896500. The article identifies four different application levels that should be considered to ensure that the design of an upper-limb exoskeleton meets user, caregiver and societal requirements.


CRERoB member, Juwairiya, presented her review (https://ieeexplore.ieee.org/
abstract/document/9945523) on the design of assistive cable-driven upper-limb exoskeletons and their experimental evaluation at in the 2022 IEEE Systems, Man and Cybernetics (IEEE SMC 2022) conference. This article identifies a need for the design and development of a lightweight full arm cable-driven exoskeleton for domestic assistance based on user requirements. It also focuses on the need of testing the exoskeletons with end users.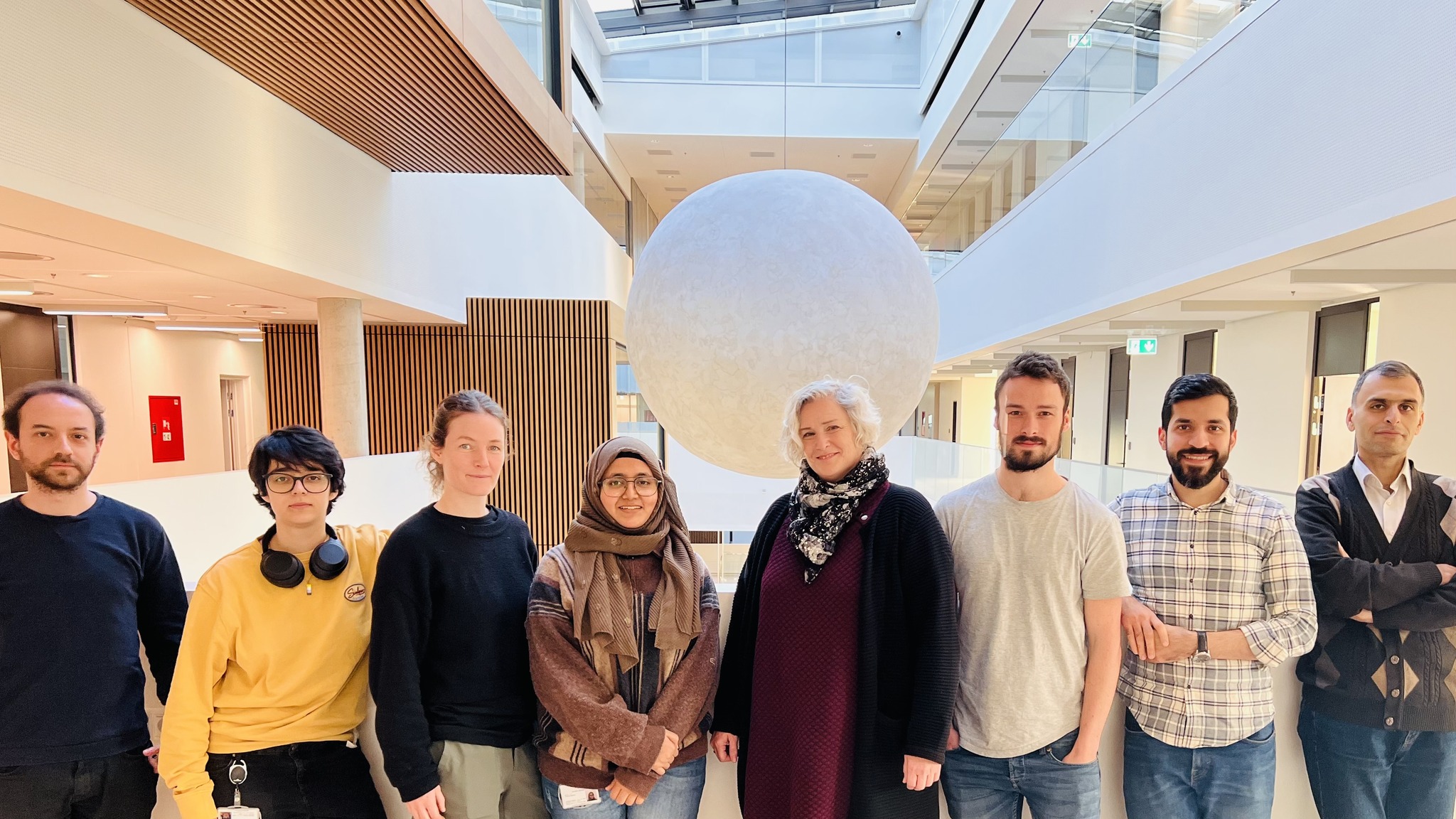 CRERoB MOVES TO NEW BUILDING
The Department of Health Science and Technology, where CRERoB is anchored, will be moving to the New Aalborg University Hospital (NAU). It is estimated that the department will have finished moving by February 1, 2023; however, CRERoB's laboratories have already been transferred over to the new building and are fully operational. The new address of the center is Selma Lagerlöfs vej 249, Hospitalsbyen, 9260 Gistrup.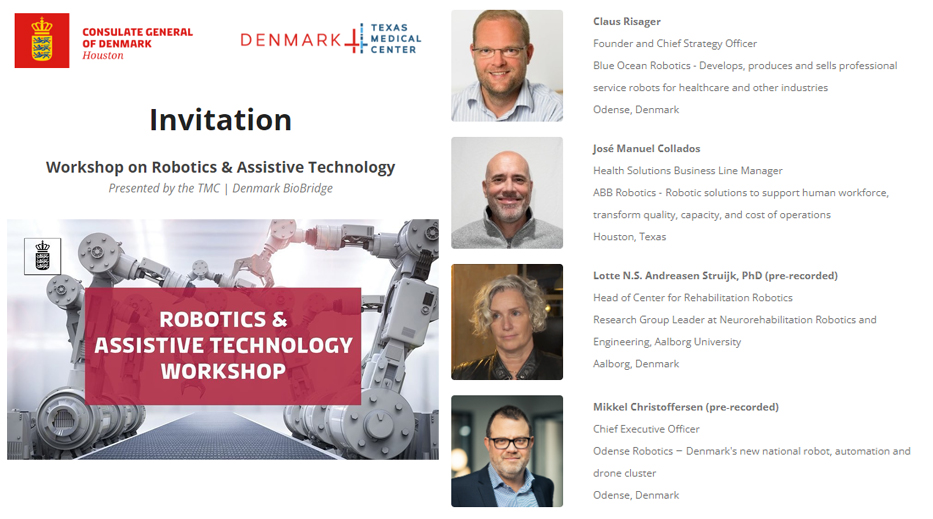 CRERoB FEATURED IN WORKSHOP IN TEXAS
On June 2nd, the Center for Rehabilitation Robotics at Aalborg University was featured by the at the Workshop on Robotics and Assistive Technology in Houston, Texas. The workshop was arranged by the Consulate General of Denmark and Healthcare Denmark in collaboration with Texas Medical Center. Top Danish health robotics organizations and companies joined the team of speakers together with Lotte.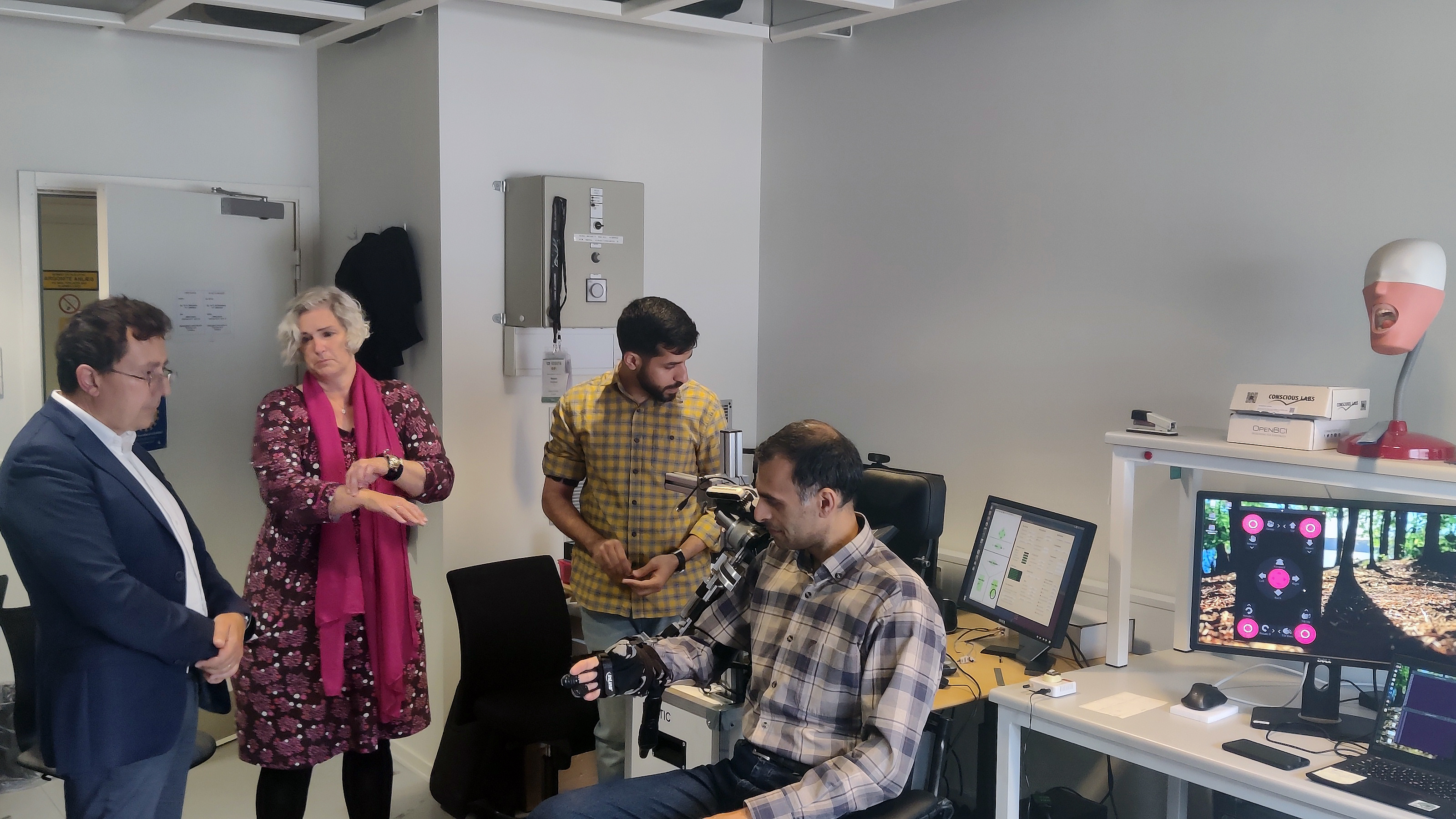 PROFESSOR DARIO FARINA VISITS CRERoB
CRERoB had the pleasure to welcome Professor Dario Farina. Dario is a Full Professor and Chair in Neurorehabilitation Engineering at the Department of Bioengineering of Imperial College London, UK. Prof. Dario Farina visited CRERoB's laboratories and was introduced to its ongoing projects and we have planned further collaboration on a joint attempt to develop new solutions for individuals living with paralyses.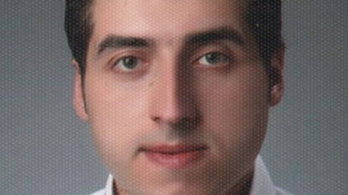 CRERoB WELCOMES VISITING RESEARCHER
Cihan Uyanik is a visiting PhD student from DTU Copenhagen's Brain Computer Interface Group. He arrived last September and has been working in guidance with his supervisor, Associate Professor Sadasivan Puthusserypady from DTU. He has been collaborating with CRERoB to develop a novel deep-learning based motor imagery brain control interface for the EXOTIC upper-limb exoskeleton. This is with the aim of supporting future users with ALS to perform activities of daily living using full arm exoskeletons such as EXOTIC.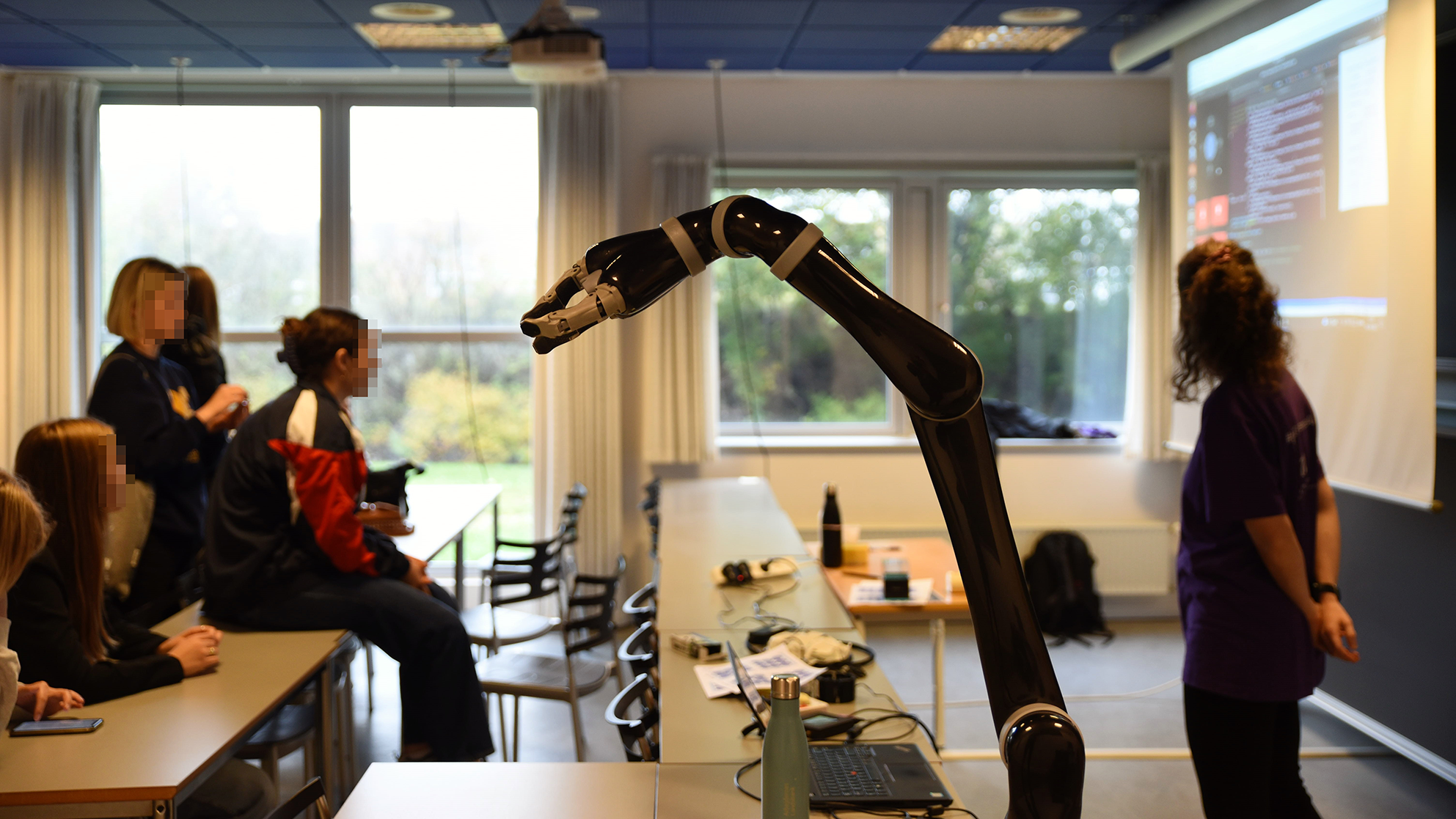 SHE SAID "LOOK, NO HANDS!"
Girls Day in Science, an annual event to promote STEM education to female high school students, was held again this year and CERERoB member, Ásgerdur Pálsdóttir, led one of the workshops. Her workshop, entitled "SE MIG, -UDEN hænder!!" (Look at me - No hands!!), centered around controlling assistive technologies without using the hands, but instead using tongue control. The workshop introduced the participants to biomedical engineering by allowing them to control an assistive robotic arm using the iTongue system.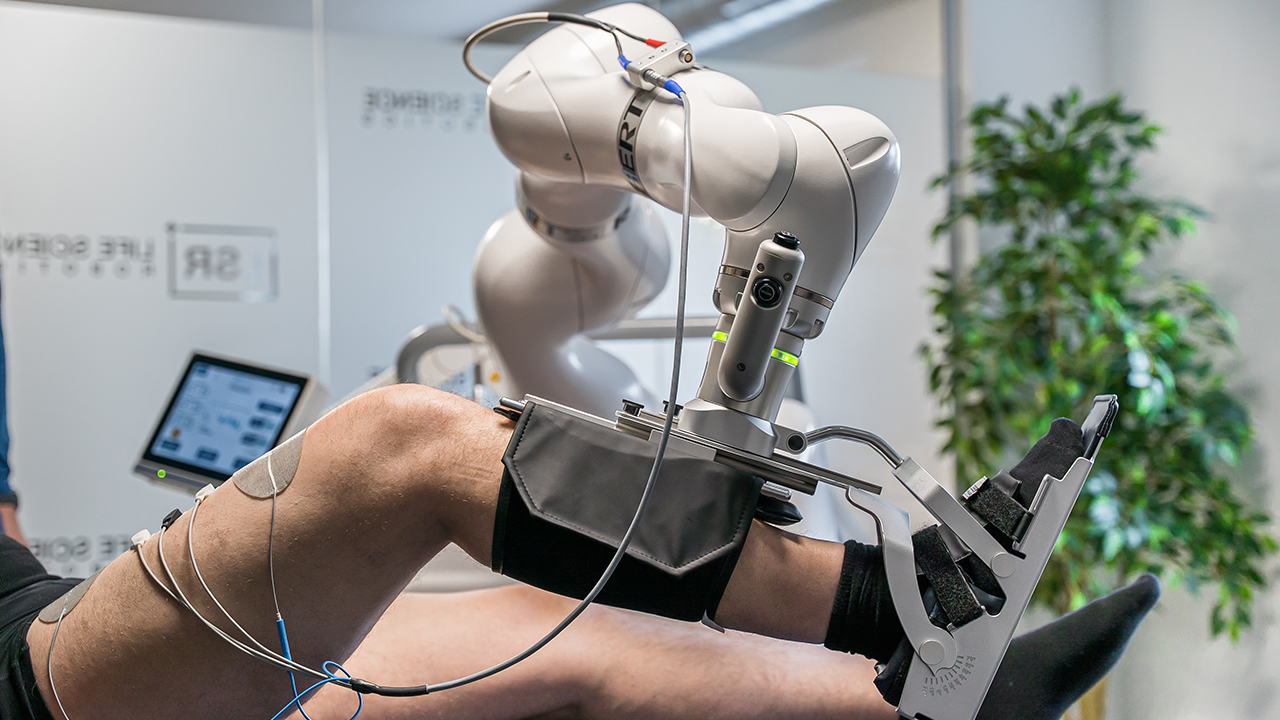 NEW REABILITATION TECHNOLOGY FROM CREROB IN COLLABORATON WITH LIFE SCIENCE ROBOTICS
Life Science Robotics is soon launching the new Sensing and Stimulation (SAS) module for their rehabilitation robot, ROBERT®. This project was developed in collaboration with CRERoB at AAU and Roessingh Research and Development in the Netherlands for clinical testing with stroke patients. The Sensing and Stimulation (SAS) Module is an add-on module for ROBERT® which uses Electromyography (EMG) to detect intent of movement and apply Functional Electrical Stimulation (FES) to generate movement. This way, severely weakened and/or paralyzed individuals can perform rehabilitative exercises while bedridden.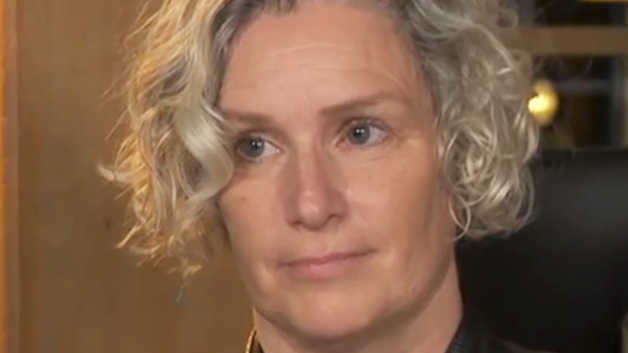 CREROB HEAD RESEARCHER BECOMES
FULL PROFESSOR
The head of the research group, Lotte N.S. Andreasen Struijk, has started a position as full professor in Rehabilitation and Robotics at Aalborg University/CRERoB from September 1st, 2022 and looks forward to continue her work with the center.
COLLABORATION WITH MUSKELSVINDFONDEN
CRERoB, along with Research Assistant Rasmus Leck Kæseler and center head Lotte N.S. Anderson Struijk, had a very valuable meeting with consultant Heidi Hoelgård Sunesen from Muskelsvindfonden recently. We look very much forward to start a collaboration towards increased user involvement and co-design within research and development of assistive technologies for users with ALS.
PROJECT HIGHLIGHTS
Follow us on LinkedIn for regular updates on our projects.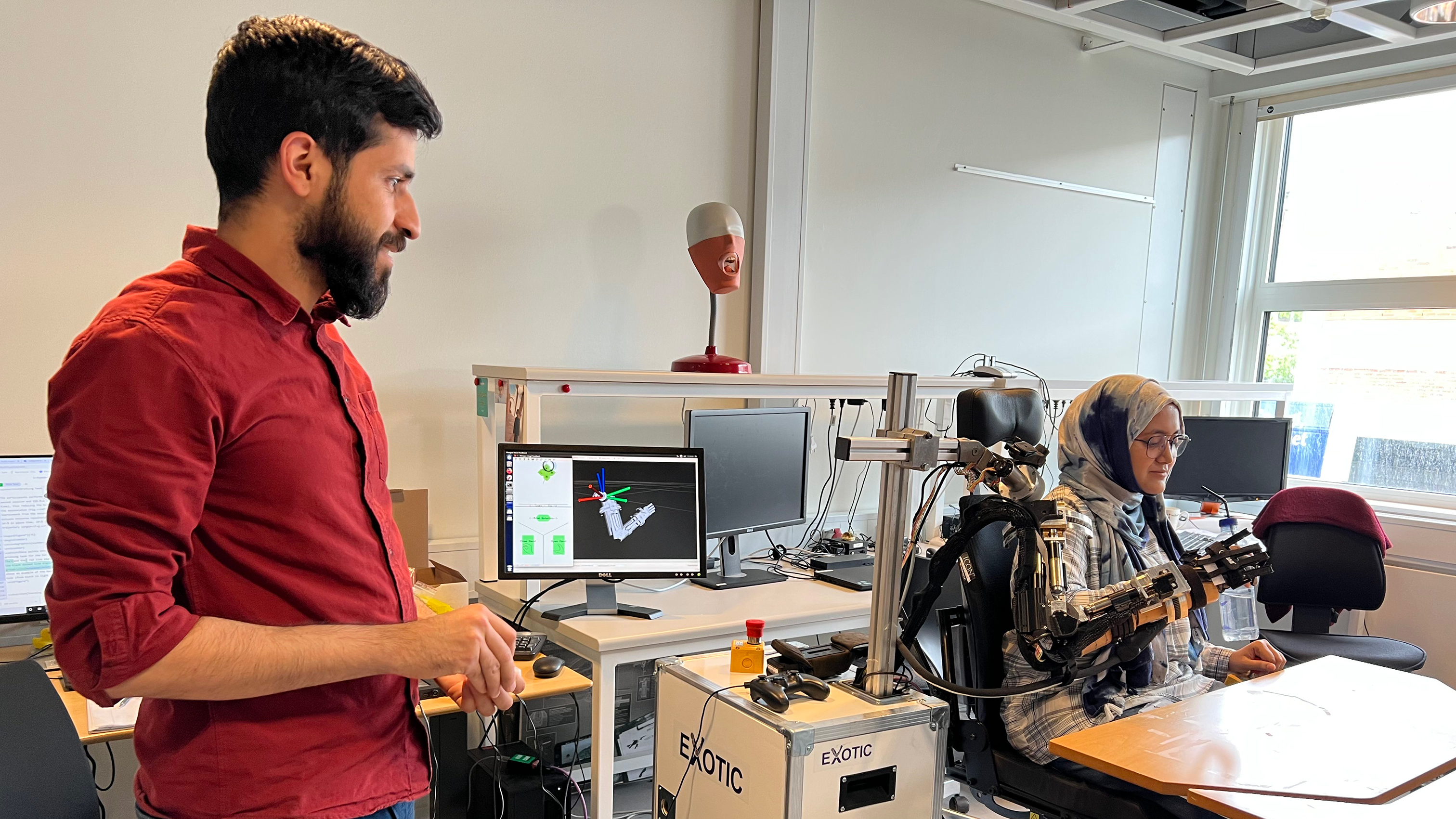 EXOTIC VERSION 2 IS IN PROGRESS
EXOTIC2
We have been working on making a new version of the EXOTIC upper-limb exoskeleton.. EXOTIC2 will have an additional degree of freedom (DOF) as a light weight 3D printed joint in the wrist, contrary to the existing exoskeleton arm. This will make it easier to place e.g. bottles on the table after drinking. EXOTIC2 is in progress and will be used for the upcoming experiments after new year, once ready. We are looking for participants for the evaluation of this new system that also incorporates non-invasive tongue control and brain based control. We also had a meeting with AAU design lab to develop an attractive "shell" for EXOTIC.
What should an attractive exo ideally look like? Should it look like jewelry? Or high tech? Should it look organic? Monochrome or colorful? Shiny? We are looking for end-users that want to share their opinion on this topic.
Share your thoughts with us by contacting Mostafa at mostafa@hst.aau.dk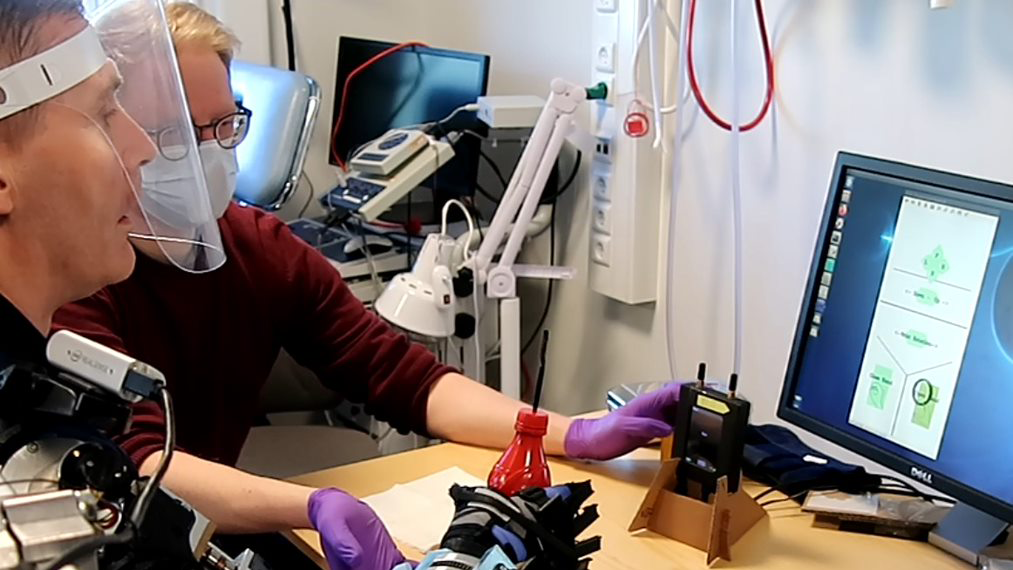 THE RESULTS ARE IN
EXOTIC
We have analysed the findings from evaluating the EXOTIC with ten able-bodied individuals and three users with tetraplegia caused by spinal cord injury. During the evaluation the EXOTIC was used to assisted tasks such as drinking and picking up snacks, also by users with complete functional tetraplegia and the need for a ventilator. The users confirmed the usability of the EXOTIC. The study was performed in collaboration with West Denmark Center for spinal cord injured individuals. More information can be found in: https://doi.org/10.3390/s22186919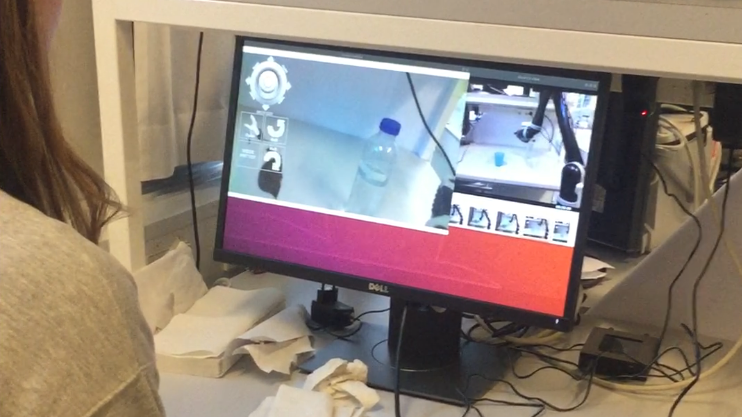 FINAL MULTIROB EXPERIMENTS UNDERWAY
MULTIROB
We have developed a remote tongue control system for a wheelchair and robot arm, which will allow users to remotely drive and control a wheelchair mounted robotic arm around the house without getting out of their bed. We are now performing the final experiments and the system is being evaluated with both individuals with ALS or a spinal cord injury, and with able-bodies participants.

In a separate study we have developed a control interface of the robot arm that uses arm muscles, tongue movement, and/or brain signals. This multimodal interface framework was developed to adapt to ALS, so that the user may combine their preferred control signal to fit their needs and disease progression. The multimodal interface framework is now being evaluated with users who are diagnosed with ALS.

Both studies are currently open for participants.
iToobot IS READY FOR EXPERIMENTS
ITOOBOT
In the iToobot Project we aim to develop a method to tongue control the assistive robotic arm iARM together with the companies TKS A/S (Denmark) and Assistive Innovations bv. (Netherlands) as participants. The aim of this collaboration is that the created solution will be available for users within 1-2 years.
We are ready to perform experiments on non-invasive tongue control where the participants will use a novel tongue/finger interface with intuitive mapping tongue motions to movements of the robot to control iARM.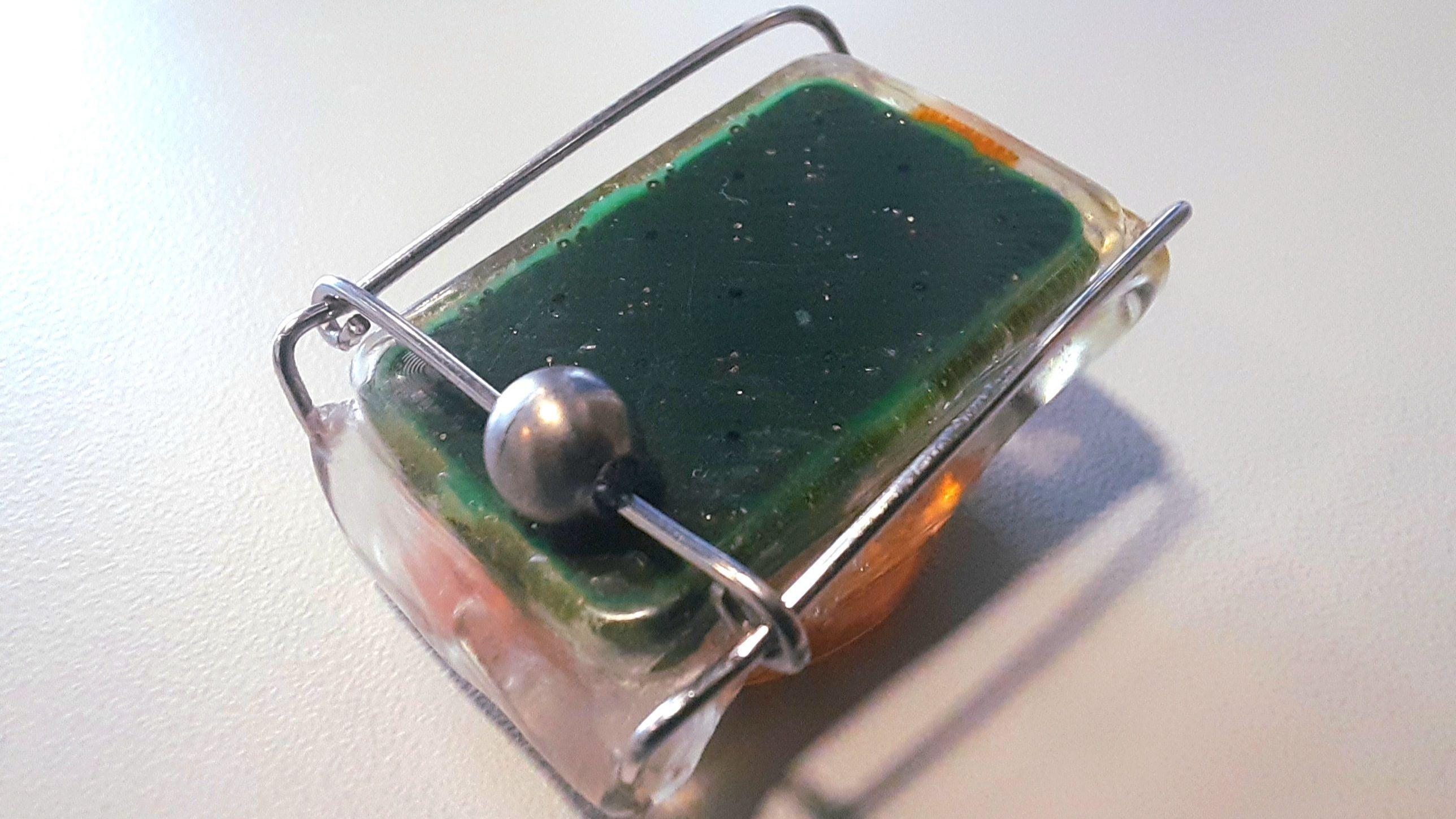 A NEW TONGUE-COMPUTER INTERFACE
HYPERHAND
In collaboration with TKS A/S, CREROB has been developing a new non-invasive tongue-computer interface (nTCI) where the activation unit (AU) does not need to be attached to the tongue. In this new version, users will position the frame-integrated AU with their tongue to activate the inductive sensors. nTCI will also be smaller in size compared to iTongue. In the upcoming experiments with able-bodied individuals, nTCI will be used to control computer and multiple grasps of an adapted version of Carbonhand exoskeleton glove which has 5 fingers.
WE WISH YOU ALL HAPPY HOLIDAYS AND A HAPPY NEW YEAR!
Join our center network
Receive newsletters and information on seminars and other center activities.